What to expect from ACCUMEDIC's mobile cardiac telemetry?
Our MCT devices are portable and measure the patient's heartbeat rhythm with high precision and swiftness. Our medical experts will attach the electrodes of the MCT device to the patient's body in a way that they will not prevent him or her from carrying on with their everyday chores. The screening monitor device gets attached to the patient's pants/shorts and stays with him while recording the heartbeat rhythm at every moment: while they sleep, work, and exercise. Through our services, we provide each client with a unique MCT device that is made as per their diagnostic requirements.
We can send the device to your home where you can fix the electrodes on your own, or we can come to your place and do it for you. The MCT results will be handed out to the patient after at least 24 hours have passed.
This model tends to 95% of the office's research facility needs. In circumstances where the test outcomes are required sooner, the office will in any case need to take the examples to the neighborhood medical clinic to be run as STAT.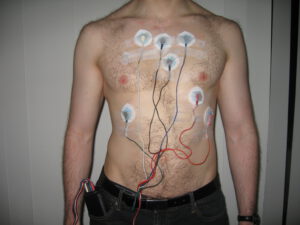 3 SIMPLE WAYS YOU CAN REACH OUT TO US

The brains behind ACCUMEDIC have purposely kept it simple. So people can easily book our services and schedule appointments without any problem.
Step 1
All you need to do is click on the link mobile number, and  This will not only keep a record of all your appointments and services in place, but it will also be super helpful in retrieving diagnostic reports.
Step 2
Our representative will schedule the timing where you can directly visit or else he will fix the timing for representative to visit and  assist your.
Step 3
Once representative or you have selected the services, you will have to fill in a medical form. This step is mandatory. From the patient's social security number to their home address and medical history – this form will give our team a piece of detailed information about you.